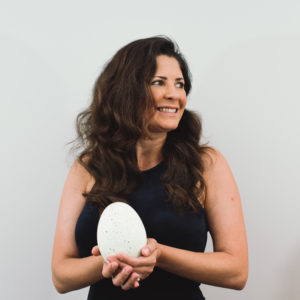 "Jiji is truly amazing! I came to her about 4 months ago with a series of concerns and she has helped me in so many ways. Not only is my endometreosis pain been almost eliminated completely but she has helped me seek out further medical advice for underlying conditions that I would have given up on trying to figure out a long time ago. Although I have yet to get pregnant I am confident that with her expertise and treatment plan that it will happen soon! She is more than just an acupuncturist, she is your friend and companion in the difficult journey of women's health issues and infertility." –B.H. from Jupiter, FL
"I 100% recommend Family Acupuncture for anyone, especially if you are having a difficult time with getting/staying pregnant. I started Family Acupuncture prior to getting pregnant, after a miscarriage and throughout my whole pregnancy. After having a history of cancer, many thought (including me) that I would never be able to get pregnant. At Family Acupuncture I always felt listened to, understood, and supported without judgements in this vulnerable time. Even if you aren't sure about acupuncture, this place makes the experience wonderful and the results speak for themselves. I feel like a great chunk of my success in pregnancy has to do with this wonderful place and caring owner!" –J.L. from Palm Beach Gardens, FL
"When I met Jiji I was about to start my first IVF cycle after over a year of trying to get pregnant with a lot of disappointments. At our first meeting, she immediately put me at ease and really understood what I had been through. Jiji knows her stuff! She knew exactly who my fertility doctor was, what I was going to experience, and told me some helpful tips after my embryos were transferred. Needless to say I got pregnant and I continue to go to Jiji once a week. I look forward to my weekly session with her and she has taken away every ache and pain that I come to her with (headaches, neck pain, back pain etc). I cannot say enough great things about Jiji and I feel so blessed to have met her through my fertility/pregnancy journey. If anyone is considering trying acupuncture- do yourself and favor and make an appointment with Jiji-it will change your life!!" –J.B. from Palm Beach, FL
"Words cannot express how Jiji's mastery and expertise have changed my life. I came to her office after having a miscarriage and initially pursuing IVF, might I mention that I was petrified of needles and would faint at the sight of them! Jiji's kindness and sensitivity to my fear, but aware of my determination and ultimate goal, made me feel so comfortable right from the start. She started with acupressure and gradually introduced needles week-by-week, while also counseling me and providing invaluable nutrition information. Before I even realized it, I was transitioned to full needles, and enjoying every minute. What a transformation! I now view acupuncture as such an indulgence and a relaxing experience to keep my body and mind balanced. I look forward to it every week! I do not know where I would be without Jiji, certainly not where I am now – my dreams fulfilled! She is one of the most wonderful, friendly, and intelligent women I have every crossed paths with. She is an integral part of my pregnancy journey, and I am looking forward to patronizing her services and trusting her throughout the rest of my life." –M.G. from Jupiter, FL
"I cannot say enough good things about Jiji and Family Acupuncture! I started my fertility journey in 2014 while living in another state. I have PCOS, and after several months of unsuccessful trying, my doctor put me on Letrazole to spur ovulation. Acupuncture was not available in my hometown, and, after 5 months on Letrazole with no results, my doc suggested I consult a fertility clinic. My hubby and I had an initial consultation, but decided to put the brakes on while we moved to Florida. Once settled, I switched doctors, and my new doc and I decided to try 3 months of Clomid before moving to more aggressive measures (IUI, IVF, etc). At the same time, I found Jiji, and booked my first session on May 26, 2015. I immediately felt comfortable with Jiji. I didn't know quite what to expect with acupuncture (Will it hurt? Will this actually work?), but she answered my questions and talked me through everything. I have to say, it doesn't hurt one bit, and is actually super relaxing! Jiji suggested I come to acupuncture once a week, and recommended I try an anti-inflammatory diet (no grain, no dairy) to help combat PCOS.
On June 18, 2015, I found out I was pregnant. That's right – 4 weeks after I started with Jiji, I was pregnant. I COULD NOT believe it. My husband, doctor – even Jiji – and I thought it would take several months for me to get pregnant, and my husband and I were already gearing up mentally (and financially) for IUI. I decided to continue my once a week treatments through the first trimester, and am happy to report that I am almost at the halfway point of my pregnancy! We are having a little girl, and I plan to continue treatments with Jiji every 2 weeks throughout the remainder of my pregnancy. So far, Jiji has been able to help me with many of the pregnancy side effects, including indigestion/stomach troubles, congestion, headaches, and sciatica. She is the BEST! I honestly believe that I would not be pregnant right now if it wasn't for Jiji and Family Acupuncture!!! <3 :)" –A.C. from Jupiter, FL
"Working with Jiji has been amazing! I truly believe she's a big part in my successful pregnancy journey. It started almost a year ago with IVF. I'm 36 with a history of endometriosis and the doctor wasn't sure how well I would stim. Turns out with Jiji's help I ended up stimming like an egg donor and retrieving way more healthy eggs than they anticipated. I am successfully pregnant with my first baby due in about a month. I have had a wonderful pregnancy with Jiji's assistance in getting me through the aches and pains. I would highly recommend her services to anyone and will continue to use her in the future. She very personable and knowledgeable. She truly is a miracle worker." – J.S. from Jupiter, FL
"I found Jiji Cook and Family Acupuncture after my husband and I had been trying to get pregnant for about a year and a half with no success. During this period I have had one surgery to remove a fallopian tube that had died from scar tissue and had also been diagnosed with PCOS. I had been working with a infertility doctor, had spent thousands of dollars doing fertility cycles trying to get pregnant again with no success. We had finally decided to take a break from the exhausting fertility cycles and try something less stressful. That is when I found Family Acupuncture. After only one and a half months for treatments with Jiji I called her at 7am with the news "Jiji it is positive what do I do now!" She not only gave me the one thing I wanted more than anything but was also there for me through everything. She was able to help me through that horrible first trimester with the morning sickness, extreme tiredness and everything in-between. All the way to the end when I was asking her to do every trick in the book to get that baby moving. Then on November 5 my beautiful healthy baby girl was born and I can not thank Jiji and Family Acupuncture enough for helping my dream of being a mom come true. I am so happy that I found her and that she was able to help me achieve the blessing of motherhood. XOXO"     –J. Evans from Jupiter, FL
"I was introduced to Jiji Cook through a friend who raved about the acupuncture she received for her hip pain. I was pregnant with my first child and was having terrible back pain. I have suffered from chronic back pain for many years and the pregnancy made it excruciating. I have tried physical therapy, drugs and specialty messages over the years and nothing was able to treat my chronic back pain. Left with little to no options being pregnant I decided to give acupuncture a try. I was amazed that just after a couple of sessions my back pain began to ease. Acupuncture was the only therapy I have found that helps me treat and manage my lower back pain. It was a lifesaver!! I also had terrible nausea and vomiting throughout my pregnancy and acupuncture made a huge difference in managing those symptoms. I continued to see Jiji after my pregnancy to manage my chronic back pain and am thrilled with the results. I also have recently had my second child and thanks to Jiji's miracle hands and needles she helped treat my nausea, vomiting and back pain throughout the pregnancy. I honestly do not know how I could have gotten through both pregnancies without her treatments! I have given out so many recommendations for Jiji and my friends and family have all been thrilled with their results from their treatment sessions!" –K.H. from Palm Beach Gardens, FL
"Jiji Cook provides so much more than acupuncture to her clients. Counselor, nutritionist, and confidant Jiji works tirelessly to maintain a whole person approach to her client care. Time in her office quickly becomes an oasis, and each time I leave I feel better, both physically and mentally. Jiji shows genuine care and concern and quickly becomes a very important person in the lives of those with whom she works. Jiji Cook is a real gem!" –K.L. from Tequesta, FL
"I was diagnosed with endometriosis when i was 13 years old and i have been struggling with pretty severe pain since then. I have had 4 surgeries, 2 miscarriages and 2 failed IUI's. After my second failed IUI i was in serious pain and my RE recommeded acupuncture and at that point i was willing to try anything. I have been seeing Jiji for about 5 weeks now and the results are unbelievable, for the first time in many years i had more than 3 days straight with no pain and that's huge for me, normally the only way to get rid of pain is strong pain killers or surgery and to be pain free for almost a week is awesome." –A.C. from West Palm Beach, FL
"I give Family Acupuncture my highest recommendation to anyone undergoing fertility treatments or having back pain. I was a bit hesitant at first when my fertility specialist suggested that I get acupuncture while doing IVF treatments. However, when I met Jiji and discussed the process with her, I immediately knew that I had made the right decision. She is extremely knowledgeable about the entire process of IVF and very thorough in her evaluation of your individual needs. When I first met Jiji, not only was I struggling with infertility, I also had severe lower back pain. Today, I am happy to say that I am pregnant without any back pain. Thank you Jiji for you helping me through this journey." –T.B. from Jupiter, FL
"I have been seeing Jiji for over 3 years for lower back pain. Words cannot express what a difference this has made in my life. The first time I saw Jiji, the acupuncture and cupping significantly relieved my pain in one treatment and over time have allowed me to be pain free even with normal activity (working out, hiking, playing sports, etc.). I truly value Jiji's clinical input on all aspects of my health and I highly recommend Family Acupuncture as I'm convinced that Jiji can help treat anything!" –K.G. from Jupiter, FL
"Jiji is the most caring practitioner I have ever had. Once you step into her treatment room, you instantly become friends. She truly listens to all of your concerns and has the expertise to treat you successfully. I came to her with more than just infertility needs and she has helped me with all of them. I am now 6 months pregnant and have had a very smooth pregnancy thanks to Jiji's treatments. She is truly one of a kind and I would recommend her to anyone!" –R.W. from Jupiter, FL
"I was going through fertility treatments when my doctor suggested I try acupuncture (It was my first time trying it). She highly recommended Jiji, so I decided to give it a try. From my first appointment I felt extremely comfortable with the entire process and with Jiji. She went through my entire medical history, so she treated things other than my fertility issues in our sessions. She answered so many of my questions that I had and is very knowledgeable with fertility treatments and what women go through. She made me feel confident that the processes were going to work and that I would get pregnant, informing me of other stories like mine with happy endings :) We also spoke about other things besides the treatments, such as swapping healthy recipes. I am now almost in my second trimester and have suggested her to some of my other friends that are going through the same situation." –L.C. from Jupiter, FL
"After my miscarriage I was worried about getting pregnant. Jiji made me feel very comfortable about trying again. She gave me a full evaluation and helped to get my body ready for pregnancy. The treatments made me very relaxed through out my pregnancy as well as helped tremendously with my nausea and lower back pain. Shortly after my daughter was born we decided to go for baby #2. Six months into this pregnancy and I feel great. My husband loves getting treatments too. Thank you Jiji for helping me on this beautiful journey to being a healthy mommy." –S.M. from North Palm Beach, FL
"Jiji has been a very positive part of our process in trying to conceive. She is professional, knowledgeable and sincerely cares about what is going on with me and my cycles at all times. She asks the questions that need to be asked and provides wonderful input and information for every step we have taken. I drive an hour each way to see her – she is that good." –T.F. from Jupiter, FL
"I began going to acupuncture before I even became pregnant to help with my fertility.  Then a short time later I was pregnant and continued to see Jiji for my early pregnancy related symptoms like nausea, fatigue, constipation, migraine headaches and back pain.  She was an absolute joy to see because I knew I would feel better quickly after seeing her!
I was able to get through my pregnancy with no medications whatsoever other than my vitamins only because of her help.  I had suffered with migraines before the pregnancy and then during as well, but I couldn't take any medications, so Jiji was a God send when she successfully treated them for me with acupuncture!  I would definitely recommend her to anyone who is pregnant for relief of whatever pregnancy related symptoms they have.  I believe in Acupuncture because it's safe for Mom and Baby!"  –Pregnant Mom from Jupiter, FL
"Jiji was wonderful during my blastocyst transfer. She was the only acupuncturist in the area that would do the acupuncture in the office. She was very flexible and accommodating which is especially necessary with IVF. She performed acupuncture before and after the transfer at the center. I am 38 years old and had a single embryo transfer. I am blessed to be 11 weeks pregnant and I'm sure acupuncture played an important role in getting me pregnant." –M.F. from Pembroke Pines, FL
"I highly recommend Family Acupuncture for treatments with infertility. After two years trying to conceive my husband and I decided to move forward with IVF. Our doctor recommended that I do acupuncture during the process. At first I was hesistant but after hearing such wonderful things from a close friend and my IVF nurses about Jiji I decided to make an appointment. I am so thankful I did! Not only does she help you with infertility but she holds your hand through the process. She informed me of the steps I will be taking and really cared about my results. During a very stressful time in my life she made me feel relaxed and informed. I can happily say that I am a first time sucessful IVF patient with the help of Jiji Cook." –A Very Happy Mom from Jupiter, FL
"After experiencing the "joys" of morning sickness throughout the days and nights during the early weeks of my pregnancy, I turned to acupuncture.  As a business owner, it was crucial for me to manage the queasiness so I could continue to function at work.  The acupuncture treatments relieved my nausea and I felt encouraged to continue with regular treatments from prenatal acupuncture specialist, Jiji Cook, throughout my pregnancy.  I cannot say enough about the incredibly attentive and passionate care I received.  I had a fabulous pregnancy, speedy recovery and have a healthy, beautiful baby boy to show for it.  Thank you Jiji!" –M.L. from Jupiter, FL
"My 12 year-old son and I have both had regular acupuncture treatments.  Jiji works with my son, and I am always impressed with how well she does so.  I have seen fantastic results with acupuncture and cupping for acute pain, and also with the lessening of chronic conditions. One of my favorite side benefits of my acupuncture treatments is the relaxation I feel from the minute I walk through the doors, which lasts even after my treatment is complete.  Knowing that I can turn to Jiji for accurate information and natural healthcare gives me peace and health of both body and mind.  Thank you for your commitment to my family's health!" –H.G. from Jupiter, FL
"My son began teething very early and I visited Family Acupuncture to see if a treatment might offer some relief.  To my surprise, he responded almost immediately.  He didn't flinch once during the pediatric acupuncture treatment and within minutes the cranky baby I walked in with, gnawing on his fingers in pain, was now giggling, smiling and had a full, peaceful night's sleep!" –Mom with teething baby from Jupiter, FL
Call Today For An Appointment: (561) 459-0528